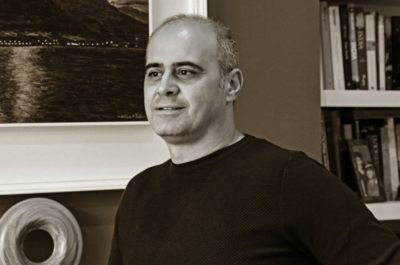 Music has been my passion from a very young age, when at age 10 the local priest recruited me and other youngsters to form a junior wind band for village festivals and events.  
I went on to study saxophone for 7 years at the "G. Rossini" Pesaro's Conservatory and obtained my degree in 1995. Whilst studying harmony in the latter years of saxophone, an aptitude for arrangements and brief compositions was spotted in me by several teachers, who encouraged me to pursue formal composition studies at the local Conservatory, "G. B. Pergolesi" in Fermo. 
After a ten year full immersion into the craft, I obtained my degree in composition in 2003, followed by a further two years study of music didactics at the same Conservatory, to enable me to teach.
Immediately upon completing the composition degree, I was lucky enough to be 'head hunted' by RAI COM s.p.a.  (Rome) as a composer of music for images on  television, for documentaries and cultural programmes (La vita in diretta, Sulla via di Damasco, Uno Mattina, Linea Verde, Geo&Geo, etc).
Still for RAI, in 2005  my music accompanied the images of  "I miti del ciclismo", a DVD collection produced by Gazzetta dello Sport and dedicated to the cycle racing world. In 2006 some of my other compositions were chosen for the world football championship in Germany by the Gazzetta dello Sport DVD, commemorating the Italian team victory; in 2008 some of my tracks were were chosen for the collection  DVD "Tutto Pantani", dedicated to Marco Pantani, the famous cyclist.
I then began to compose and gather thematically my music, with my first album 'Symphonic Waves' (Ed. RAI TRADE) appearing in 2004,  followed by others in subsequent years (see other section of the website), with the latest album being "Reflection", for piano and strings in 2019.
Among the most satisfying experiences of my career have been collaborations with film productions companies:  "Sangue sparso" in 2014 (Rome, Italy) for which I composed the original motion picture soundtrack, for orchestra. In 2016 I also composed  orchestral music as part of the original soundtrack for the movie 'Car 24', in Los Angeles, USA.
My compositions have been played by several vocal and instrumental groups (quartets, quintets, ensemble, string orchestra) in numerous Italian cities as well as abroad.
For the 14th World Saxophone Congress in Lubjana, Slovenia, (anno) the pieces Run and Sunny,  (from the album Saxseus) arranged for saxophones, have been premièred;  other compositions for saxophone ensembles have been played by the "Italian Saxophone Orchestra" in St Petersburg, Russia (anno).
In 2012, at the prestigious Konserthuset – Grünewald hall, seat of the official presentation of Nobel prizes, my concerto for piano and orchestra was played me as soloist and the Stockholms Akademiska Orkester and directed by Helena Söderman.
In 2014 the song "Escalation" was chosen as the music to accompany the advertisement for Rai TV licencing, "Ritardatari", while the song "Waves" accompanied the advertisement for the aid agency EMERGENCY (twenty years of medicine and human rights).
Given my versatility with the classical styles, I was commissioned to compose liturgical music for the "G. Bezzi" chorus of St Nicholas Basilica in Tolentino (Macerata, Italy). The mass "Ecclesia de Eucharistia" in 2003, composed by me for mixed choir and organ, was to celebrate Pope John Paul II's birthday. Still in 2003 the canticle "Inno dei Salvati" for mixed choir and organ, based on a text from the Apocalypse, was composed by me for the occasion of the "Vespri solenni" of St Nicholas from Tolentino (see above).
I then collaborated with the "San Gregorio Magno" choir with the canticle "L'ora del giudizio" (2006) and "Esultate, o cieli" (2012) for soprano voice, mixed choir, oboe, string orchestra and percussions based on a text from the Book of the Apocalypse.
Many have been my collaborations with choirs, instrumental and chamber music groups as an arranger.
During my time in the USA and Canada in 2006, I collaborated with HMWN Radio Maria Canada and Radio Toronto.
Prize: 2015 'Volare marchigiani d'autore' presented by Attilio Romita – Teatro dell'Aquila – Fermo (Italy)
I am currently living in London, where I alternate composing and arranging with my passion for landscape photography.